I'm busy getting ready for my book launch party, where I'll be rocking red heels inspired by the ones on my book cover.  One thing you should know about me is that I'm hopelessly clumsy.  I think my parents named me Anne, which means "walks gracefully" as some kind of joke.  Or they were a little too optimistic.   But when I put on my high heels, I feel pretty graceful for at least a little while.
More than the shoes, though, I'm excited about the food.  At the party, we're having red velvet cupcakes from the good women of Georgetown Cupcakes.  My mouth is already watering thinking of the moist cake and cream cheese icing.
But red decadence doesn't stop at red velvet cakes.  In fact, some of my favorite desserts are red.  Like strawberry shortcake.  I've eaten it and made it every which way – from scratch, from Bisquick, and with pre-bought sponge or pound cake.  I've whipped my own cream, squirted Reddi-Whip, and scooped out Cool Whip.  It's all good.  Personally, my favorite way to make (and eat) strawberry shortcake is with a more biscuit-y base and homemade whipped cream.  What about you?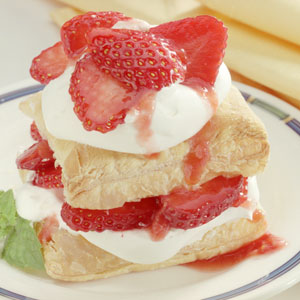 Last Christmas, I attempted a cookie recipe from one of my favorite cooking blogs, Two Peas and Their Pod.   They were Red Velvet Cheesecake Cookies.   I love cheesecake.  I love cookies.  How could this go badly?  But for some reason, it wasn't to be.  My fault, I'm sure.  Sometimes I make baking shortcuts and that probably doomed me.  The cookies didn't want to mold around the cheesecake filling.  I cursed the heavens, then vowed to try again.  That day will come.  Let me know if you've succeeded where I didn't.  And check out their other recipes – cookies or not – they're great!
What's your favorite red dessert?